Online services for families


advancedyou is a free, secure image archive for students and their families that is made available to all families regardless of whether they have purchased school photography packages or not. advancedyou makes available all of the high-resolution digital portrait files we have available of every student, photo packages from previous years, group prints, sports and co-curricular prints and a range of gift items. All packages ordered on advancedyou will be sent to your home address.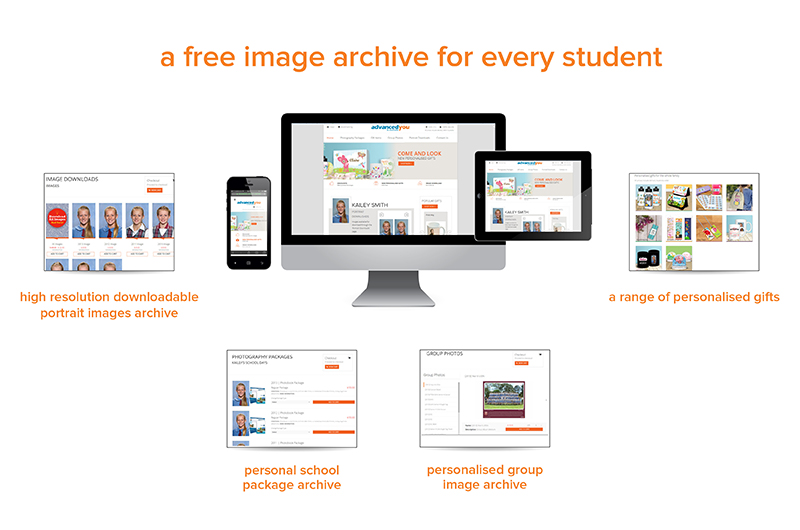 How to access your advancedyou archive
You can view your child's advancedyou archive using the secure 9 digit code found on the back of your package, on your printed portrait sheet, via an advancedyou access email we send to you, or via the "last chance" order card that we provide to families that have not placed a package order. Simply visit click here and enter your 9 digit code at the top of the home screen.
How to download your child's high resolution portrait image
1) Login to your child's advancedyou archive
2) Go to "Image Downloads"
3) Add the image or images you want to your shopping cart and check out

The images you've ordered will be emailed to you as soon as possible; this may take up to 24 hours
About advancedyou
We only provide images in high-resolution e.g. the images we use to print your school photography packages. We know some companies provide low resolution images and charge extra for a high-resolution image. This is not how we work.
Customers who purchased a separate, printed portrait (i.e. a loose portrait sheet), can obtain a high-resolution portrait image up until the following year's portrait image has been taken (usually for up to 9 months after delivery)
If you would prefer not to have an advancedyou image archive, simply let us know in writing and we will permanently delete your child's image archive. However, please note that this process is irreversible once completed.
Sibling photos have their own separate advancedyou archive. These images can be obtained by entering the secure 9 digit code on your sibling photos at here on our home page.
Group images cannot be obtained as digital files. This is for both privacy and economic reasons, to prevent digital files being shared or modified.
High resolution packages and images from as far back as 2009 may be available.
Why is one or more year's photos missing? Your child may have been absent on photo day on that year, there may have been an issue or changes with the data supplied to advancedlife that prevented an image from being linked correctly. Unfortunately, if this has occurred there is no way to re-link the image.
What happens if I'm not happy with the gift I ordered? A preview of your design is provided online to enable you to check your order prior to purchase. advancedlife takes no responsibility nor will provide a refund if you change your mind about a product you have ordered or if you have made an error when designing your item or used an image that has not reproduced correctly. If your item is damaged during delivery, please photograph the damaged item and notify us by email within 7 days of receipt. All refunds on items damaged during delivery are made at the discretion of advancedlife.
Read more

School photo ordering made easy
advancedorder is your school community's secure pre-photo day online ordering destination — designed, built and hosted by advancedlife. advancedorder  features a unique 9 digit community code delivered to every parent with their order envelope to ensure security. For families that choose to order online rather than with an envelope,  advancedorder reduces enquiries at your school office, means you don't need to worry about juggling envelopes and cash, and makes ordering sibling, sports and co-curricular photos online easy for your families.

About online ordering
You can place an order for more than one child from the same school, in the same transaction
You can order a sibling photo, if offered by your school, in a single transaction when you order individual school photos
Photo packages ordered at advancedorder are returned to your school for distribution
When you order online, you do not need to return an envelope
Orders will be returned to your school once artwork and proofing (if required) has been completed and your packages have been printed. In most cases this is 4-6 weeks after your photography has been completed
High Resolution digital files are free with all packages that include a separate, printed portrait photo page. These images can be obtained by using your personal image archive advancedyou and entering your individual SIC code found on the back of your group package or on your portrait sheet
We offer a 100% Money Back Guarantee on your photos if you are not completely satisfied (see T&Cs for details)