High School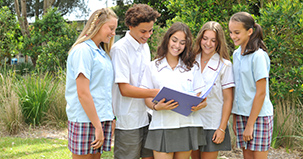 The years spent at High School are some of the most important and formative years of a student's life and every student and family deserve high quality images to remember those years at school. The advancedlife team are specialists at working with High Schools and ensuring that the images are always there for families to look back on with pride.
What Schools say about
advancedlife
Good Shepherd Lutheran College

"advancedlife are always so accommodating, patient and helpful!
Every year, almost monthly, we are approached by companies wanting to take on the school photography job, but every year I'm reassured that there cannot possibly be anyone that does it better than advanced.
Thank you!"

Michael Stock - Photography Co-ordinator

Merewether High School

"advancedlife has been brilliant. They are professional in their presentation and service. The photographers are outstanding, flexible and patient, with no request too hard. The final product is quality. We are very happy with advancedlife as our school photographers."

Christine Rippon - Principal

St Patrick's College Campbelltown

"advancedlife have looked after St Patricks College photographs for over 10 years now. Their photographers are always professional and caring with our girls and school staff. The products that they produce and supply to our community are great value and of a high quality. There office staff are fantastic looking after any queries and their after sales service is fantastic, as we look forward to using advancedlife for many more years as we value the relationship we have.
I would gladly recommend advancedlife to any school looking for a wonderful ompany to work with."

Mrs Olga Tesoriero - College Management

Northern Beaches SHS

"Northern Beaches SHS would like to thank you for your continued professional approach to our whole school photography, including photography day and printing of school ID's, photograph packs, booklets and wall mounted staff photos.
We particularly appreciate your;

High quality, professional product
Genuine supportive service
Efficient and prompt lines of communication
Clear, succinct instructions and requirements"

Robin Sprott - Principal
Read more testimonials
Portrait Packages
Every image is precious and none is more important than a beautiful portrait image. Our photographers are trained in the art of capturing a student's personality and ensuring that the essence of every student is reflected in their school portrait. Our goal is to deliver a classic, timeless portrait that will be treasured forever.
GROUP PHOTOS AND GROUP PACKAGE OPTIONS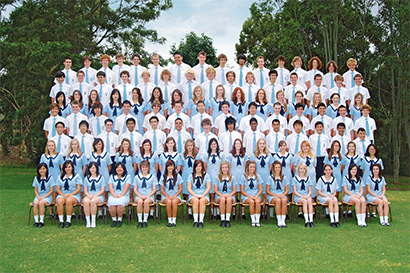 Capturing a classic group photo that is balanced and well formatted takes experience and training. For more than 30 years our group photographers have made classic large group photography into an art form. To capture that special image, whether it's a group of 20 or a whole school photo of 1200+, there's no one more experienced than an advancedlife group photographer. Of course capturing the image is only half the job and, once we've captured images of the highest quality, we print them in our own state of the art lab, in your school's choice of package format using the most advanced processes available.
FRONT COVERS FOR YOUR SCHOOL PHOTOS
Our experienced promotional photographers capture unique images that represent your school and then our design team, in consultation with you, turn these images into front covers that are showcase your school. Or we can work with you to create a custom cover design to showcase your school.
Packages Types
Photobook Presentation
Our Photobook Presentation is available in class, year, split year or composite year levels and consists of 12 to 16 pages of fun and memories including:
A large personalised portrait
Principal's message or school values page
Interactive writing page and year in review
Traditional and composite class groups
Autograph page
A customised wraparound cover featuring images of your school's students, artwork and images.
Classic Presentation
The Classic Presentation features images printed on high quality Fuji Film photographic paper and is presented in a durable, transparent keepsake folder. The Classic Presentation formats include: traditional class, traditional year, traditional split year, composite class and composite year level.
Industry standard size = 20 x 25cm
advancedlife size = 35 x 25.4cm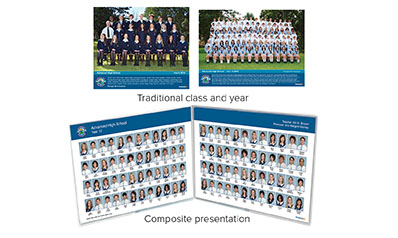 Family First
The Family First Presentation is a beautiful, folding A4 keepsake, with a professionally designed wrap around cover that features images and artworks that represents your school's values and traditions. The Family First Presentation is available in class or small year-level groups; however please note that the Family First Presentation is not suitable for groups larger than 100 students.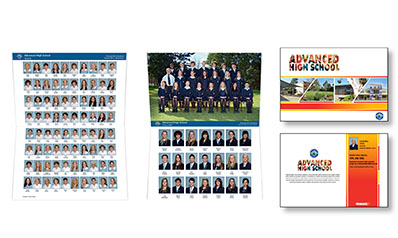 You also receive for High School Principals, Administrators & Teachers

Your Own dedicated customer service team
A dedicated Client Manager and Customer Service Officer to support your staff and deliver the outstanding service your school deserves

alpha directories & dvd
Multiple portrait alpha directories for your administration team and DVD's formatted to your administrative software with all portraits and group images

easy online ordering
Parents can choose and pay for all photos online
Security is guaranteed with a unique 9 digit code
Reduce or eliminate cash on your school premises
Maintenance-free, no additional administration required
No need to return envelopes; however, envelopes are available for those parents that don't wish to order online
Complimentary for High Schools
FREE graduation certificates for all Year 12 students
FREE 20x30" printed enlargement of your choice - framed or block mounted
FREE all staff receive staff group, portraits (including digital download) and a copy of their class
FREE bound album copy of all groups photographed
FREE 2 complete sets of the alpha student directories
FREE co-curricular group photos for the school and available for purchase by parents
10% Commission on photo package sales to your school
Please note: conditions and minimum enrolment numbers apply to all complimentary items
Staff Packages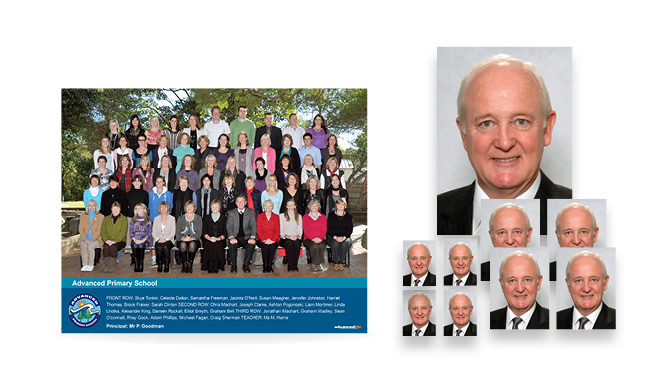 Staff receive their selection of group photos and portraits. Teachers receive their own class/year photo — it's all complimentary.
School Albums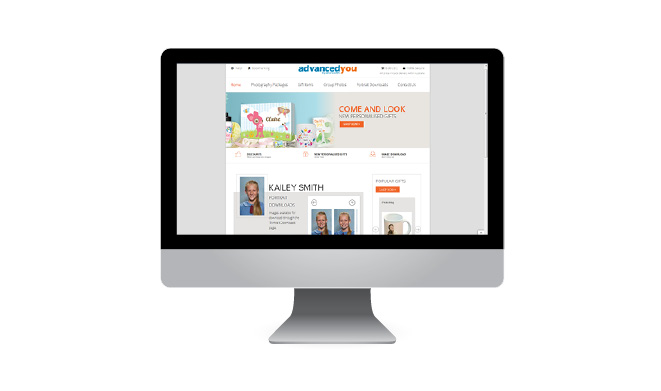 Complimentary album containing all group photos.
Graduation Presentations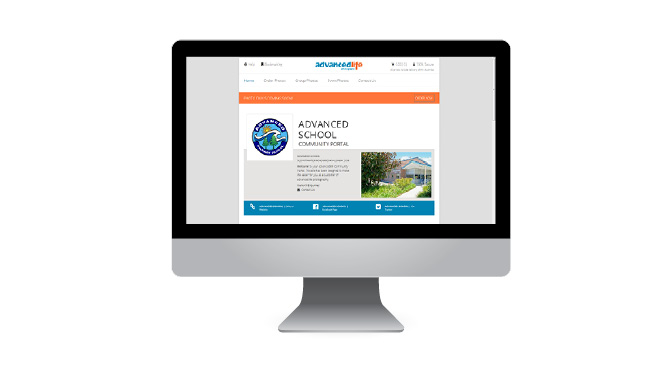 Final year graduation presentations complimentary for all graduating students.
Enlargement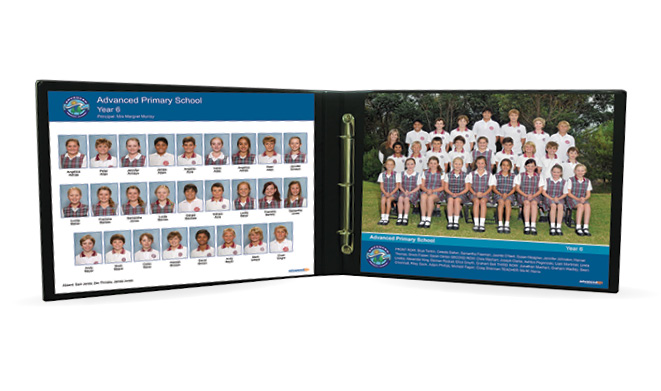 Choose an enlargement (framed or mounted) that best suits your school.
Commission
Generous commission for all schools plus additional avenues to increase commission with advancedlife incentive offers and fundraising service (enrolment numbers apply).
Student and Staff ID Cards
ID cards are a vital part of High School administration and operations and advancedlife have the expert advice, systems and technology to design and produce your school ID cards and ensure they are seamlessly integrated into your school's administrative systems.
Card types:
Mifare
Magstripe
Signature
Standard
Encoded
Are you using or considering using Mifare cards?
Mifare cards are the smart card market leader with more than 10 billion cards in circulation. Mifare cards are unique to each individual user and are securely encrypted. Interaction is contactless and can be adapted for multiple school applications such as printer access, canteen credit, attendance, room access and more. Ask your Client Manager today about how we can help you with Mifare and school ID cards.
Read more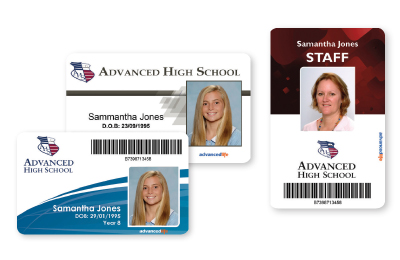 Online Services for Schools & the School Community
Easy access for your school
advancedaccess transforms the experience of our schools, is hosted free of charge and puts all of the products and services provided by advancedlife at the fingertips of any or all of your staff.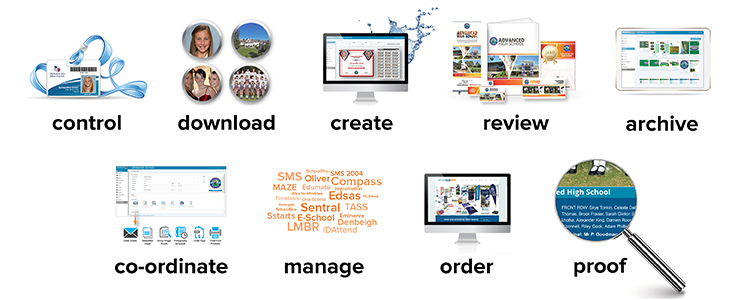 advancedaccess is –
Free to all

advancedlife

schools
Secure access for multiple users 24/7 – you choose who has access
Free hosting – save your server space
View & download hi-res group, portrait and promo images — search by name —available in more than 24 admin formats
View, order or replace ID Cards — search past or current cards and instantly print temporary cards
Order and re-order print products
Check your account and choose how you spend your commission (coming soon)
Proof group images online or download pdfs
Your customised dashboard — to keep track of key dates, delivery times and outstanding tasks
Create great designs — magazine and yearbook tool
Templates to create useful documents —instantly print awards and merit certificates
Plus so much more…and it's free!
advancedaccess faqs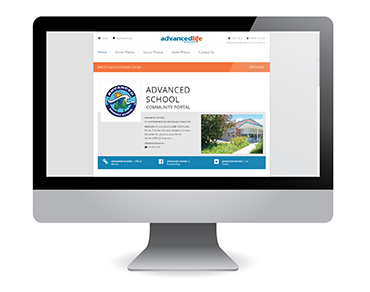 What is advancedorder?
A site for parents to order school photo packages, sibling photos, sports photos and co-curricular photos
Orders 100% completed online
Uniquely branded with your school colours, logo and images to promote your school to your community
Links back to your website and Facebook page
Key advantages of the advancedorder for your school administration
100% secured, designed, built and hosted by

advancedlife

A 9 digit community code ensures security, with all orders delivered back to your school
Reduce enquiries at your school office
Order packages up to 9 months after the day of photography
Order sibling, sports and co-curricular photos online and reduce inconvenience for your administration team
What is
advancedyou

?

advancedyou is a secure, private image archive of each student's unique school journey. advancedyou is for students and their families.



advancedyou

Provides access to each student's individual archive of photos taken by

advancedlife

Makes images and photo packages from years gone by available to view and purchase
Download high resolution portrait images
Delivers orders direct to the family home
Order sports, co-curricular and class photos with ease
Create gift items for relatives and friends
Key advantages of
advancedyou

for your school administration
Envelope does not need to be returned to school to order
Reduces enquiries as we handle everything for you
Utilises a secure, personalised, 9 digit code unique to each student. Each secure code is delivered on previously purchased photos or distributed by your school
Sibling/family photos can be ordered online, reducing enquiries and administration
Students or parents who forgot to order or missed the day can always order at a later date on

advancedyou.

It's secure and it's free!
Our Production Facility
Having captured these valuable images, we know how important it is to print them to the highest standard. Our Production team are experts in colour management and colour theory. Utilising our in-house state of the art printers, techniques and processes, your images are in safe hands with the advancedlife Production team and they ensure that we deliver only the highest possible quality photographic and digitally printed products to schools and families.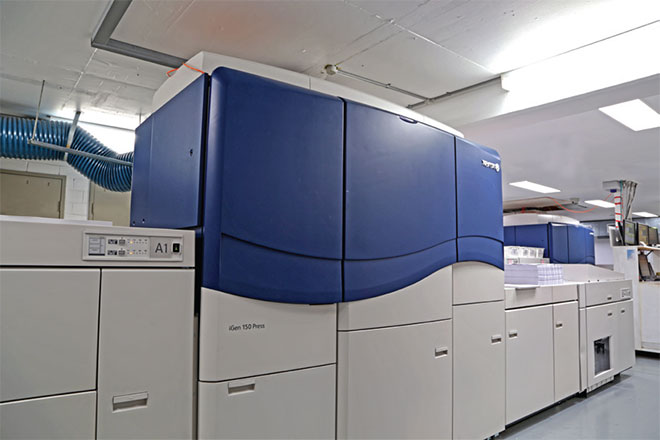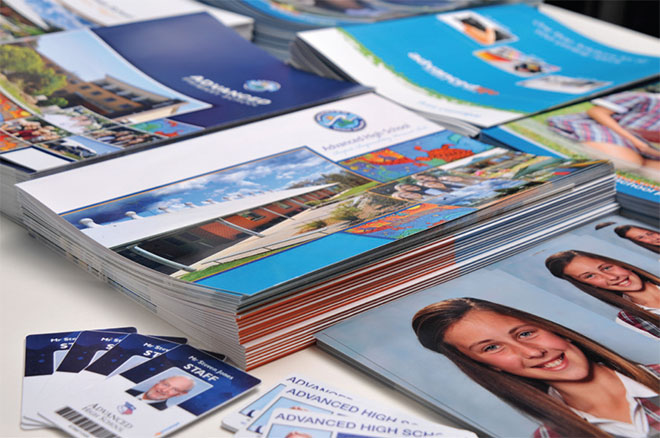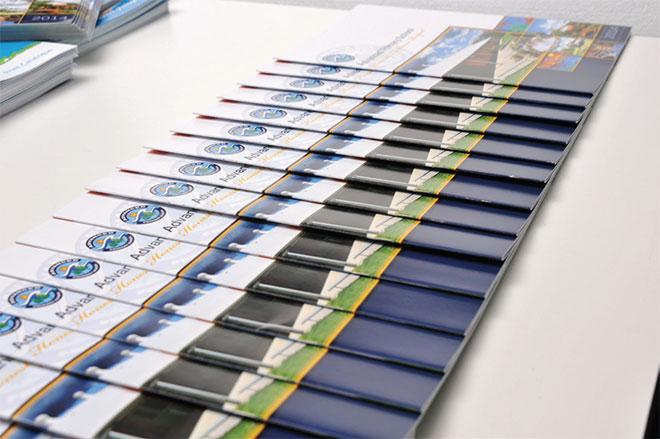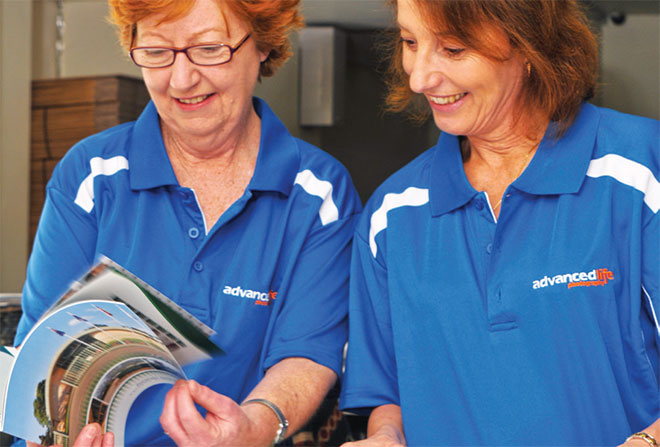 All our school photography production is in-house, therefore we can guarantee the security and quality of our images.
Sentral

advancedlife is proud to work closely with Sentral and our systems facilitate the smooth integration of school photography images and data with Sentral administration software.
Sentral is software designed for the P/K-12 school environment and is currently used by over 1500 Australian schools. With its web-based suite of modules, Sentral provides a single comprehensive interface for the management, tracking and reporting of data for school administration, online learning and student management.
Sentral is designed to seamlessly integrate data and work collaboratively with other products. The Sentral approach is to dynamically integrate with the existing environment, allowing schools to choose the systems that best suit their needs.
In consultation with P/K-12 technology experts, Sentral has been built from the ground up by teachers for teachers. Sentral is continually evolving to meet the changing needs of schools and the regulatory requirements of their governing bodies. It is now one of the most widely used learning and management software systems in Australian schools.
WHAT CAN WE DO FOR YOU TODAY?
Would you like to find out more?
No website can provide a truly comprehensive outline of our services and we'd love to come and discuss the needs of your school with you in person, with no obligation.
To arrange a meeting with your advancedlife representative simply click on the Button below and we'll contact you as soon as possible.
Make an appointment