Sports Photography
We would love to be a part of your next season. We offer the experience, professionalism, pricing and range of products that will ensure the satisfaction of your committee, parents, sponsors and players.
what Club's say about
advancedlife
Bangor FC

"We used the services of advancedlife Photography for the first time this year. The co ordination and delivery of the services was first class. We have no hesitation in recommending advancedlife and look forward to working with them in future seasons"

Bangor FC Communications Officer

Jimboomba Thunder JRLFC

"This was my first year organising our club photos - the process from start to finish was smooth, hassle free & enjoyable!! Thanks guys!! "

Kylie Evile
Jimboomba Thunder JRLFC

Calamvale Leopards JAFC

"We have used advancedlife Photography for our team photos for the last few years now as they have taken all the hard work out of managing the event. The photos are very good quality and the online ordering for additional packages is easy to follow. "

Calamvale Leopards JAFC

Portland Football Club Juniors

"The staff that came to take the photos were all so organised, patient, friendly and professional. They are a real credit to the company. Your staff did an amazing job. We didn't feel rushed at all but they kept to schedule. Several parents fed back to me that the club has not had such an organised and easy photo night."

Megan Welsh

Helensvale Hogs Rugby Club

"Please pass on our thanks to your photographers, we had great feedback from the teams, they were polite, friendly and very adaptable. From my perspective, with this being my first year of having to deal with the sessions in their entirety they made it a whole heap less stressful!"

Sam Dunsmore - Registrar

Heathcote Waratahs Football Club

"LOCK IN YOUR DATES AND NEVER GIVE IT ANOTHER THOUGHT, THEY ARE ORGANISED, EFFICIENT AND EXCELLENT."

Rachel Hewitt
5 reasons to choose
advancedlife
1. free club poster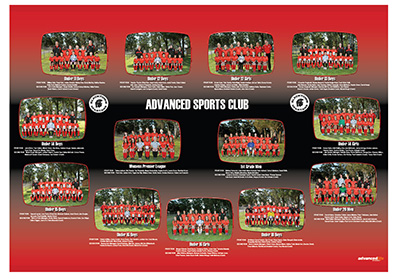 Memorialise your club's pride & tradition with this free annual framed poster (30 x 20 Inch) designed by advancedlife Photography & featuring every one of your club teams photographed or all your Premiership winning teams.
Minimum enrolment of 250 players.
2. photographic & print expertise
advancedlife have been photographing large groups and timeless portraits for more than three decades.
Your images are processed and printed in our state of the art lab.
advancedlife is the choice in sports photography.
3. 10% commission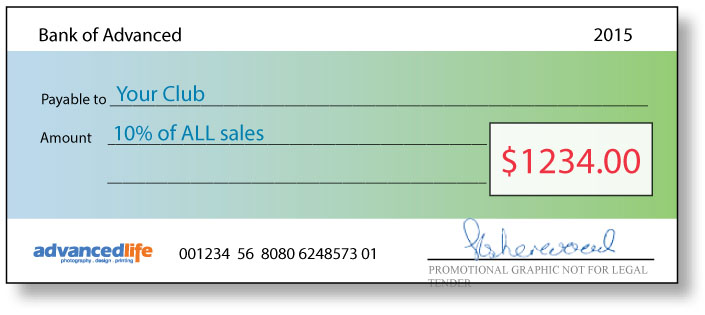 10% commission on ALL photo packs!
Please note some companies only pay commission on A/B packs.
4. $25 portrait and team option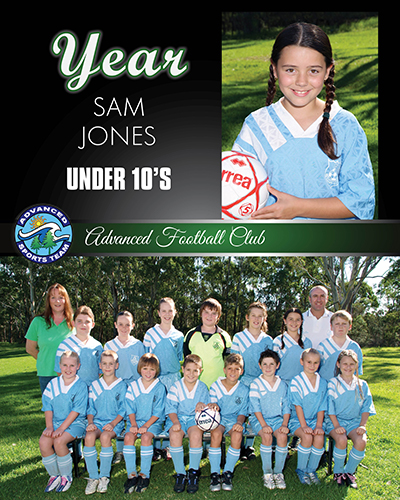 Every parent deserves an affordable purchase option featuring their child and team. The Memory Mate ensures all parents can afford a portrait and group image.
5. online ordering and services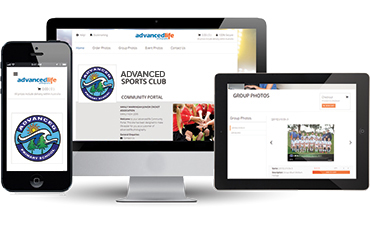 why online
At advancedlife we've always innovated and for the team at advancedlife online is simply the latest frontier on our journey to enhance our service to your clubs and community.
what's the future of online at
advancedlife

?

At advancedlife we've already developed our online services beyond anything else available with advancedorder and advancedyou. We know that technology is moving faster than ever and we've seen a very high percentage of families transition to online ordering and we anticipate that
Within five years, most if not all clubs photo transactions will take place online
That very soon there will be no paperwork or admin for your clubs. Online services will facilitate all aspects of your clubs photo experience.
At advancedlife we're ready and our large, experienced and committed, in-house IT Development team is working hard to deliver the next generation of the advancedorder and advancedyou, all with the goal of making life easier for you and your club!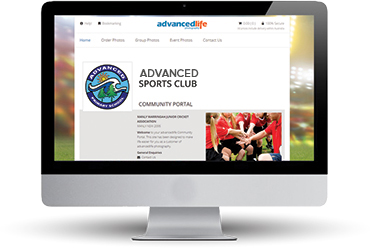 what is advancedorder?
A site for parents to order team photo packages
Orders 100% completed online
Uniquely branded with your clubs colours, logo and images to promote your club to your community
Links back to your website and facebook page
key advantages of advancedorder for your administration
100% secured, designed, built and hosted by

advancedlife

A 9 digit advancedorder code ensures security, with all orders delivered back to your club
Reduce enquiries at your clubs office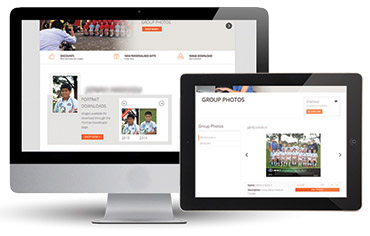 what is
advancedyou

?

advancedyou is a secure, private image library of each player's unique journey. advancedyou is for players and their families.



advancedyou

Provides access to each player's individual library of photos taken by

advancedlife

Makes images and photo packages from years gone by available to view and purchase
Download high resolution portrait images
Delivers orders direct to the family home
Order team and portrait photos with ease
Create gift items for relatives and friends
key advantages of
advancedyou

for your clubs administration
Envelope does not need to be returned on photo day to order
Reduces enquiries at your club
Utilises a secure, personalised, 9 digit code. Each secure code is delivered on previously purchased photos or distributed by your club
Sibling/family photos can be ordered online, reducing enquiries and administration
Players or parents that forgot to order or missed out on photo day can always order at a later date on

advancedyou.

It's free.